Fans of the enduring CBS police procedural "Blue Bloods" got some great news when the program was renewed for Season 13 in April. The trials and tribulations of the closely-knit Reagan family continue to pack in audiences (per Deadline), with professional and personal complications lying around every bend. Fans can always count on one thing — each episode will include a Sunday evening family dinner scene, and each episode will feature a thrilling case for a member of the family to solve.
The conclusion of the show's 12th season saw a number of big changes. One character became a parent and another announced they were about to experience a major career challenge, and yes — the Reagans had another lively Sunday night dinner. When the show picks up for Season 13, there will be a few new things for the Reagans to address, but the continuity of their lives remains intact. Here's what we know about the upcoming 13th season of "Blue Bloods."
Expect Erin to run for DA this season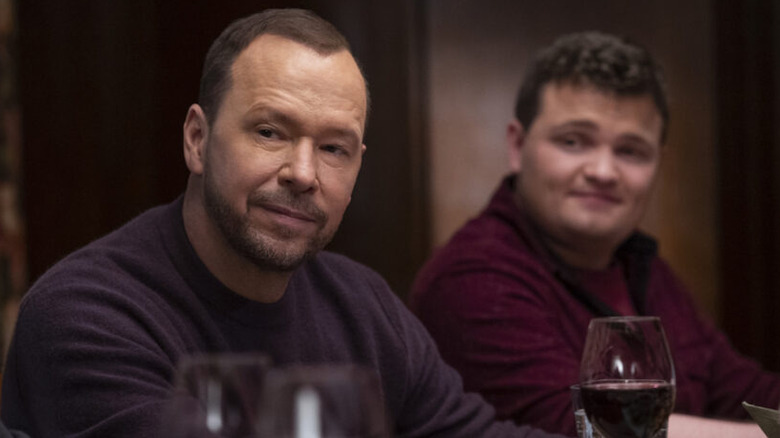 Barring any unexpected bumps, and per the show's usual airing cycle, "Blue Bloods" fans can expect new episodes to arrive sometime in late September or early October. You can also expect the show's regulars to return, as there's no public sign that Donnie Wahlberg, Bridget Moynahan, Will Estes, Len Cariou, Tom Selleck, or any of the rest of the show's regular cast is interested in exiting the program, as suggested on the show's IMDb page. There also haven't been any major recent announcements as to the show adding new cast members for Season 13 as of press time.
As for what Season 13 has in store for the show plotline-wise, two major Season 12 events will likely come to fruition during Season 13. During the Season 12 finale, Erin Reagan (Moynahan) announces that she's going to run for DA, and Danny's (Wahlberg) partner, Maria Baez (Marisa Ramirez) decides to adopt the orphaned daughter of a witness in the murder case that the twosome had been running. Per a May 6 Deadline interview with showrunner and executive producer Kevin Wade, the show plans on balancing Erin's DA run with her life on the job. Wade anticipates that her Season 13 storyline will involve "doing the job she has, and challenging herself and being challenged about her fitness for the job she wants. And what she's willing, and not willing, to do in order to get it." This will ultimately lead to a lot of adjustment on her part, on the job, and on the homefront.
Fans will have to stay tuned to find out what happens to Baez, Danny, and the rest of the Reagan clan.