John Wayne
John Wayne Met His First Wife by Going on a Blind Date With Her Sister
Movie star John Wayne met his first wife, Josephine Saenz, in a rather unconventional way. It was a time long before technology played a part in the world of dating, although it still made for an intriguing situation. He was originally on a blind date with her sister, but the electric chemistry he shared with her sister ultimately led to the actor's first marriage.
John Wayne was ashamed of his parents' divorce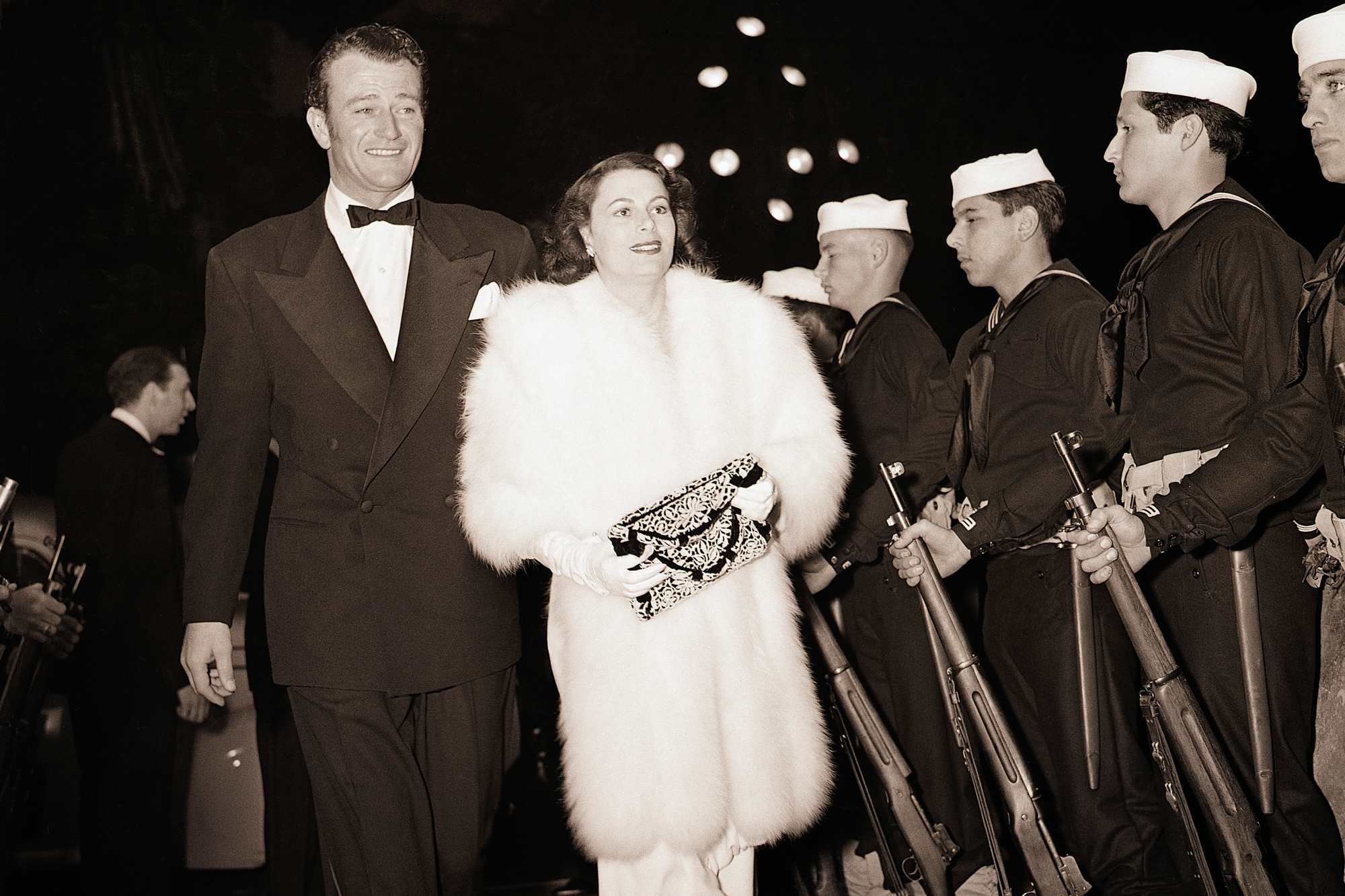 Wayne, originally named Marion Robert Morrison, was born to Mary "Molly" Alberta Brown and Clyde Leonard Morrison. He had a complicated relationship with his parents, especially when it came to his mother. He always tried to spread kindness within the family, but she always held unrealistic expectations over him. Meanwhile, Wayne had a tremendous relationship with his father, whom he respected greatly and received a lot of life advice from, which he practiced for his entire life.
The movie star's parents divorced in 1929, which was socially unacceptable at the time. As a result, he felt a great amount of shame and embarrassment. Both of his biological parents remarried, and Wayne liked his new step-parents, but it always stuck with him over the years.
John Wayne met his first wife on a blind date with her sister
According to Carolyn McGivern's John Wayne: A Giant Shadow, Wayne met his first wife after a Thanksgiving dance at the Balboa Inn. His friends set him up on a blind date with a woman named Carmen Saenz, who belonged to a wealthy family.
After the dance ended, Wayne walked Carmen to her beautiful home located on the beach, which was where he met her younger sister, Josephine, who also had a date with her. They all spent time together, enjoying their time eating good food, exchanging conversation, and drinking coffee.
However, Wayne realized that he was more drawn to Josephine than he was to Carmen, as they kept making eye contact. The actor called her "the most beautiful girl I had ever seen … I felt as if a hypnotist had put me in a trance. I stared at her all night. She was aristocratic, serene, and I was lost."
It was the first time that the movie star to be felt true love, but Carmen wasn't necessarily upset. She approved of it, especially as dating in those days was much more casual in how partners paired up over the course of the evening.
He married 2 more times
Josephine became Wayne's first wife in 1933, but their marriage would end in divorce 12 years later in 1945. The movie star found love at least another two times, tying the knot with two other women. His second wife was Esperanza Baur, who he frequently called "Chata." They married in 1946, but their marriage landed them in a court battle. They officially divorced in 1954. Finally, Wayne's third and final wife was Pilar Pallete, who he married in 1954.
Wayne and Pilar didn't divorce, but they did separate in 1973. Then, he became romantically involved with his former secretary, Pat Stacy. They lived together until he died from stomach cancer in 1979.