That '70s Show may have been canceled, but its legacy endures. The FOX sitcom, which ran from 1998 until 2006, spearheaded the careers of its youngest stars, including Topher Grace, who's now equally known for being miscast as Venom in Spider-Man 3, and Ashton Kutcher, who's about as famous as you can get (and kind of working on saving the world right now). The series even led to what might actually be Hollywood's cutest couple: Kutcher and Mila Kunis. The pair played on-screen lovers and wound up tying the knot for real in 2015, almost a decade after the series aired its last episode.
Meanwhile, Wilmer Valderrama set fans into a frenzy when he admitted that a That '70s Show movie could be on the table in 2019. At the time, he told Entertainment Tonight that the show's beloved cast was a bit too busy to make it happen — but we're still holding out hope. If one thing is clear, it's that That '70s Show was so successful that it forever changed the lives of the actors involved. Here's what the cast was like before the sitcom fame.
Mila Kunis moved to the United States as a refugee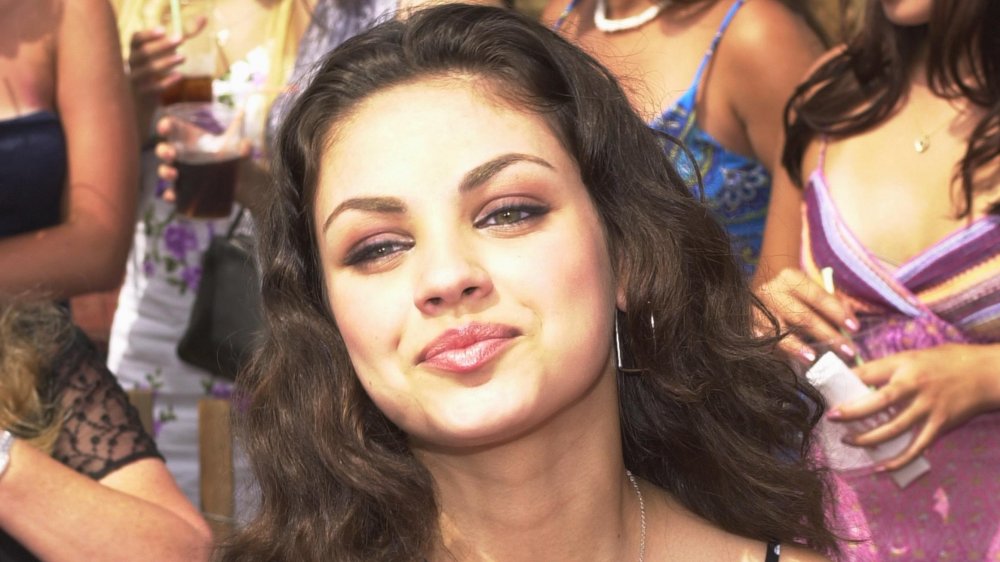 Mila Kunis had to come a long way to get cast in That '70s Show. When the star was seven years old, she fled Ukraine and moved to the U.S. on a religious refugee visa. This was around the time that Ukraine was declaring independence from Russia and amid a rise in anti-Semitism, according to Glamour. Kunis didn't even know her family of seven was moving to a new city, let alone a new continent.
In a 2016 interview with Conan O'Brien, Kunis revealed that her parents lied and told her they were only moving up the street. "And then one day, we weren't moving up the street. We were on a train, and I was like, 'Woah, we're on a train. Where are we going?' … And then we got to Moscow, and then we got on a plane, and all of that was very new to me," she explained. " … I had Coca-Cola for the first time."
Kunis admitted her parents kept the whole thing quiet because they were leaving as refugees, saying, "It just wasn't something you flaunted." It also wasn't easy. The star previously told Glamour that they had just $250 and some suitcases to their name. In order to make a good life for their kids, her parents went to night school to learn English and both worked full-time while attending college. In other words: Kunis couldn't be further from her spoiled, self-involved character, Jackie.
Mila Kunis lied about her age to get her That '70s Show role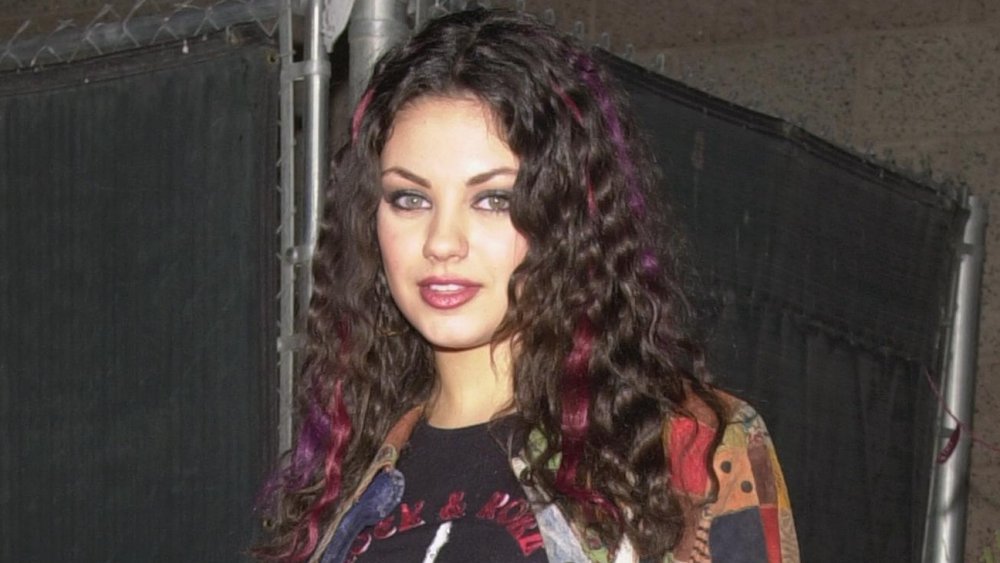 Sure, teens may lie about their age to get into a bar, but few kids are lying about their age to get to work. Then again, there aren't many people with the same work ethic as Mila Kunis. The star began her acting career at the ripe age of nine, and by the time she auditioned for That '70s Show, she had the same amount of experience as most of her on-screen friends (or more, if you're looking at Topher Grace and Ashton Kutcher). The only problem was that she was a bit too young on paper, so she lied about her age.
While appearing on The Tonight Show with Jay Leno in 2012, Kunis revealed, "I was in ninth grade, so I was pretty 14. I told them I was going to be 18, which, you know, I've said this story before, it's not technically a lie because at one point — given all things went right — I was going to be 18."
Kunis even owned up to having a fake ID that said she was 21 years old when she was only 16. Of course, producers eventually found out her real age, but it may have worked in her favor. In 2010, she told George Lopez that she was actually the age she was playing on-screen, quipping, "I think that's unheard of." Honestly, who else was going to better relate to Jackie Burkhart?
That '70s Show's Ashton Kutcher was a blue collar worker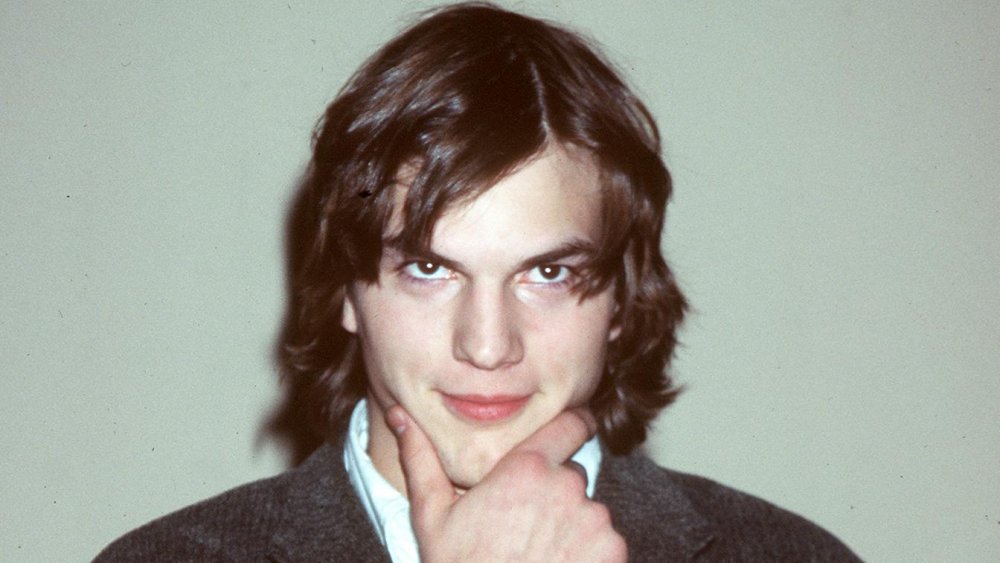 That '70s Show was actually Ashton Kutcher's first credited on-screen role. It also happened to be the one that made him famous — but before that, he worked a number of odd jobs just like every other struggling actor. In a 2019 episode of Hot Ones, Kutcher revealed that he was raised on a ranch in Iowa and started helping out with the cattle when he was 13 years old. As part of his job, he had to "cut the nuts" off the bulls they no longer wanted to breed. Along the way, he also swept Cheerios dust at a cereal factory, washed dishes in a kitchen, and skinned deer at a butcher shop during deer season.
"I had a lot of very blue collar jobs growing up," the actor admitted. " … I think the biggest thing it taught me was just appreciation, because when you do have a job like that — when you get home at the end of the day, you collapse from physical exhaustion — collapsing from mental exhaustion, from like sitting in an office all day, seems easy, and being an actor seems even easier."
These days, Kutcher doesn't even consider acting his day job. The man best known as Michael Kelso has since dedicated himself to combating human trafficking and child exploitation through his organization Thorn.
Ashton Kutcher almost died for his twin brother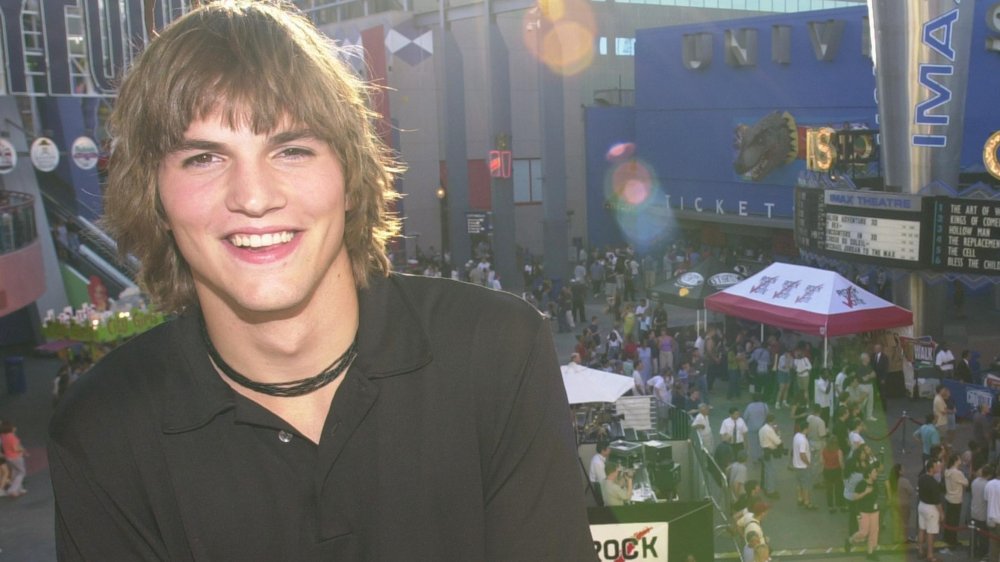 Most of us don't realize that Ashton Kutcher is actually a package deal. The Dude Where's My Car star has a twin brother who shares a name with his That '70s Show character. Michael Kutcher has "a mild form of cerebral palsy due" caused by "irreversible neurological deficiencies," according to Life & Style, and Ashton's childhood was defined by his brother's illness. At one point, he even considered suicide to help save his twin's life.
In a 2005 interview (via Life & Style), Ashton Kutcher revealed how painful it was watching his brother struggle with his speech, eyesight, and developmental milestones. The worst, however, was cardiomyopathy, a heart disease that almost killed him. Michael needed a transplant, and Ashton wanted to give his brother his heart, but the universe intervened. "I'm standing on the balcony, thinking about jumping off, and my dad comes out and says, 'What are you thinking about?,'" Kutcher said. "I tell him. He comes over and says, 'You can't do that.' And right then the doctors come rushing out saying, 'We have to prepare the OR. A woman died in Florida in a car accident and there's a heart on the way.'"
Today, Michael is a public speaker and advocate for those with cerebral palsy, according to his website. And Ashton Kutcher is, well, Ashton Kutcher.
Laura Prepon battled an eating disorder before landing That '70s Show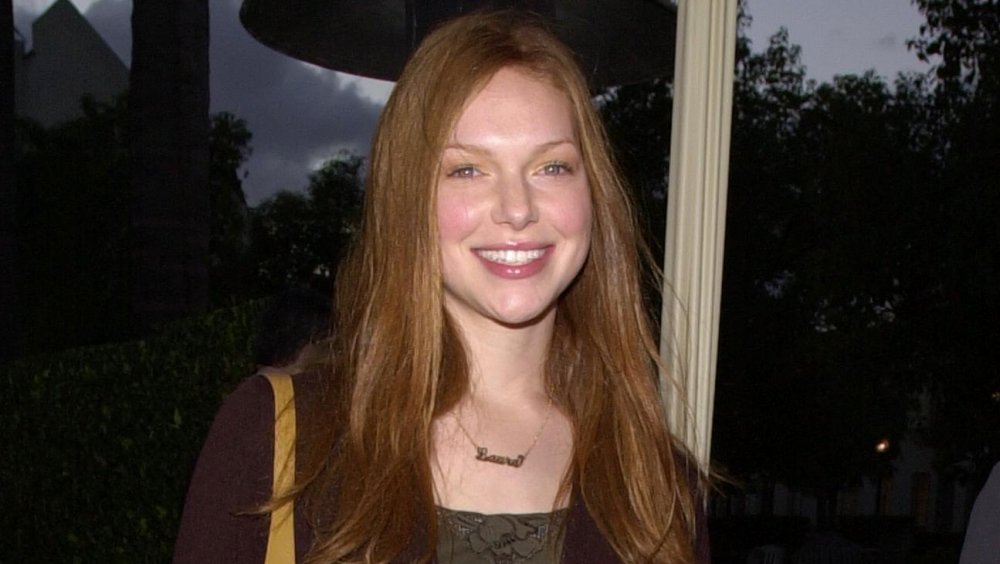 Laura Prepon, who played Donna Pinciotti, struggled behind the scenes with an eating disorder that began long before she was cast on That '70s Show – and she blames her mother. In Prepon's 2020 book, You & I, as Mothers (via People), she flatly made the shocking admission: "My mother taught me bulimia."
Prepon's struggle with bulimia began when she was 15 years old, she explained to the publication. The actress, who's 5'10", attended an open casting at a modeling agency, where she was told to lose 25 lbs. After that, losing weight became a "shared project" between her and her mother, Marjorie, who was bulimic in college. Marjorie would weigh Prepon every morning, and was "proud" every time the scale's number was a little smaller. Prepon ended up shrinking to an ultra-slim 105 lbs. "That's when she told me, 'You can have your cake and eat it too.' I knew exactly what she was talking about," Prepon told People, adding, "It was a bonding thing we would do together. A shared secret."
Prepon struggled with her eating disorder until she was in her late '20s, but doesn't hold any ill will against her mom, who now suffers from Alzheimer's, for taking her down that road: "I think she was trying to help me in her own way."
Topher Grace didn't even audition for That '70s Show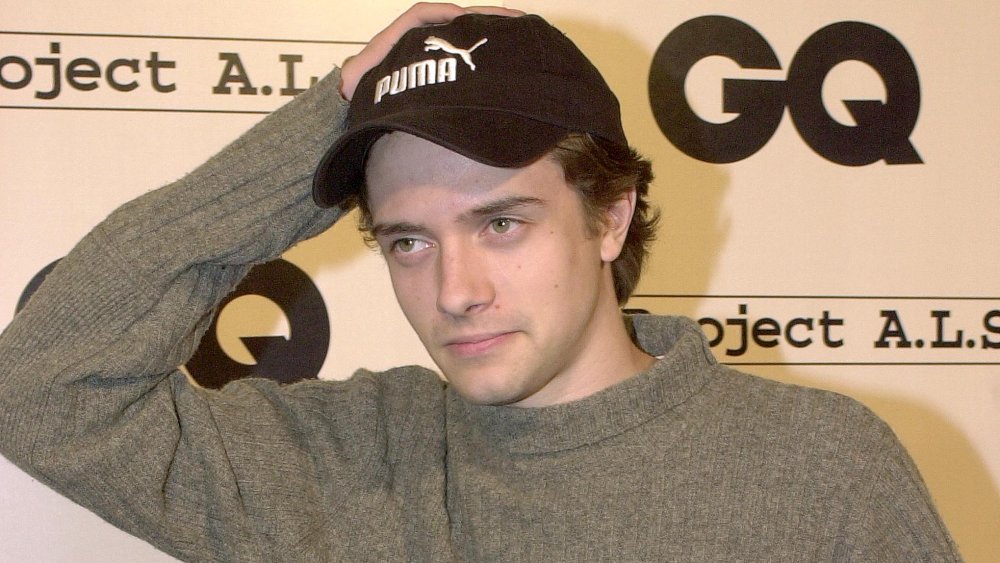 Topher Grace — a.k.a. Eric Forman — feels a little bit guilty about his success on That '70s Show, because he didn't even audition for the hit series. In a 2019 interview with Vice, the TV star admitted he had no prior on-screen acting credits. The only experience he did have at the time was with his school's theater program (but seriously, anyone who's seen High School Musical knows Sharpay Evans was the real star. Sometimes, that is enough, even in real life).
"When they first called me, they didn't offer me the role, they just asked if I wanted to try out for something. I guess I imagined that I was going to fail, but I did it anyway," Grace said, later adding, "I was a guy who hadn't worked before and so many other actors have dedicated years to get to where I managed to end up."
Of course, Grace didn't fail at all even though he dipped out of That '70s Show during Season 7. While speaking with IndieWire, the star revealed that his time on the sitcom made him "enough money" that he no longer felt the need to make studio films and could, instead, take risks and pick his projects with "auteurs."
Topher Grace couldn't find a date before he got famous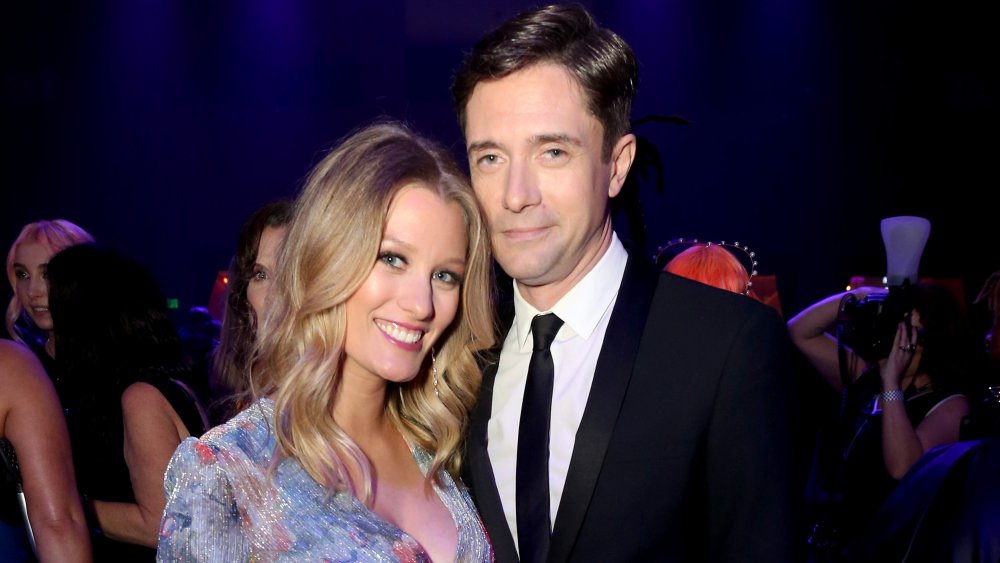 Before Topher Grace ever became a TV star, he was a kid in Connecticut navigating the ins and outs of what the Connecticut Post hailed the "snobbiest town" in the state. Per The New York Times, it had "four country clubs, two yacht clubs, and a hunt club," but we're guessing that Grace didn't spend a whole lot of time hanging out with the upper crust. Instead, he was at home being babysat by actress Chloe Sevigny. Yes, according to Us Weekly, he called her a "cool babysitter" and "had such a crush on her." Grace was notably less cool, at least if you ask him.
In a 2004 interview with the Boston Sunday Globe (via Today), Grace revealed that he looked young, was kind of scrawny, and couldn't find a girlfriend in high school. He did have a growth spurt before college, but he has no way of telling if his luck changed because of fame or because he "grew into [himself]." He added, "I'm not trying to say 'poor me' — not like the way supermodels say, 'I had a terrible childhood, everyone made fun of me' — but I was very small in high school and nobody wanted to date me."
Nowadays, the star is married to a model. According to E! News, Grace and Ashley Hinshaw announced they would be expecting their second child sometime in 2020.
That '70s Show star Wilmer Valderrama left South America as a teen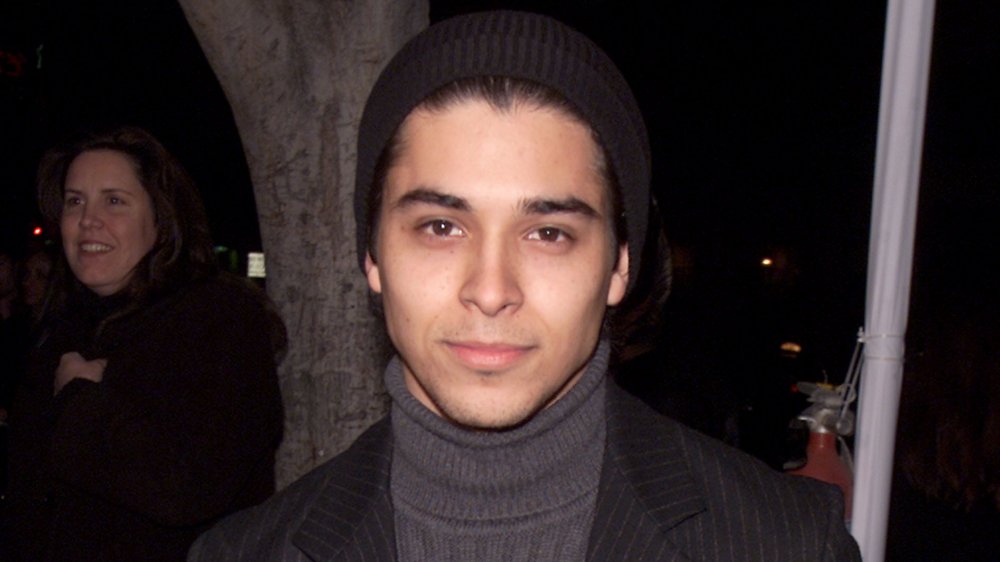 Wilmer Valderrama played foreign exchange student Fez on That '70s Show — and related to his character on a deep level. In a 2016 interview with Vice, the Miami-born Valderrama revealed that he spent the majority of his childhood in Colombia and Venezuela, his parents' native countries. After his family moved back to the United States in 1993, the actor enrolled in public school with his sister.
Valderrama came armed with a strong work ethic: he didn't speak English, but he and his sister felt like they "needed to be the first ones to speak English" in their family, so the pair enrolled in ESL classes and both got jobs. "When I got here, I was an adult at 14 years old. I'd had my childhood, and I was a clown, and I was silly, and I was fun, but I also had a very mature perspective on things," Valderrama told Vice. "We knew when we sold everything we had in Venezuela that we were coming to America to work. That was a fact. I remember my dad saying, 'We didn't come here to go to Universal Studios and Disneyland.' We did do those things, but those were rewards, and that my dad made very clear."
The hard work paid off. According to Celebrity Net Worth, Valderrama has an estimated $20 million net worth and makes a reported $100,000 per episode of NCIS.
Wilmer Valderrama was bullied in school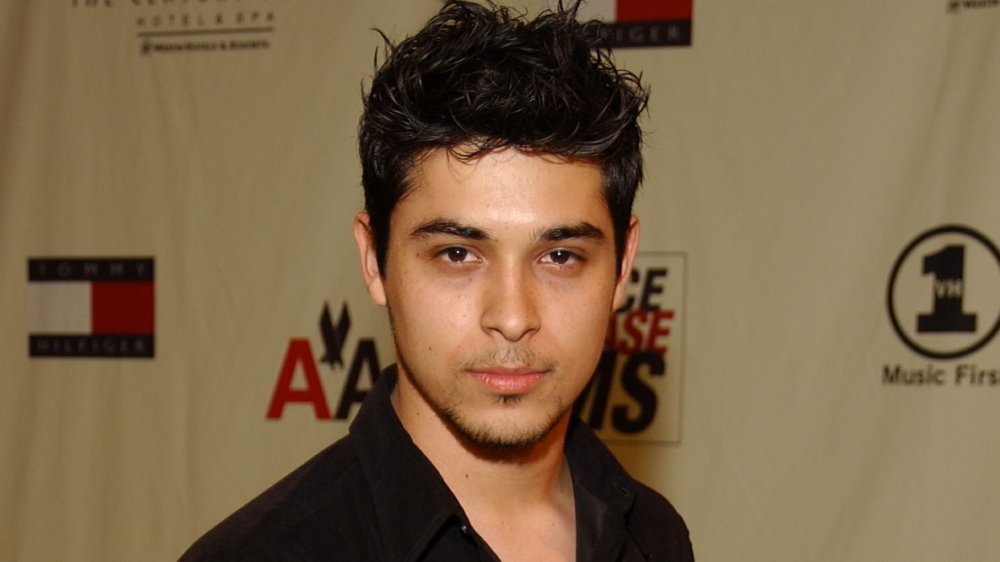 Wilmer Valderrama knows a thing or two about bullying, and it's not just because he's been known to humiliate his exes on air (it's pretty hard to forget the stuff he said about Jennifer Love Hewitt, Lindsay Lohan, and Mandy Moore to Howard Stern in 2006). Nonetheless, the actor knows just how painful it is. In his interview with Vice, Valderrama admitted that before he became a Hollywood ladies' man, he was bullied in school because of his ethnicity.
"Kids can be super cruel, and I grew up in a time in our country where there was very little representation and very little awareness of other cultures, not only in media, but in entertainment," Valderrama said. "Entertainment in the '90s was the dictator of what we considered normal. When you had an accent, you were considered uneducated."
Since then, Valderrama has taken up anti-bullying as a cause (despite the above-mentioned indiscretions — but Howard Stern has a way with pulling those things out almost everyone). In 2012, the actor became a spokesperson for NERDS candy's anti-bullying campaign, "Stomp Out Bullying."
That '70s Show star Danny Masterson was always a Scientologist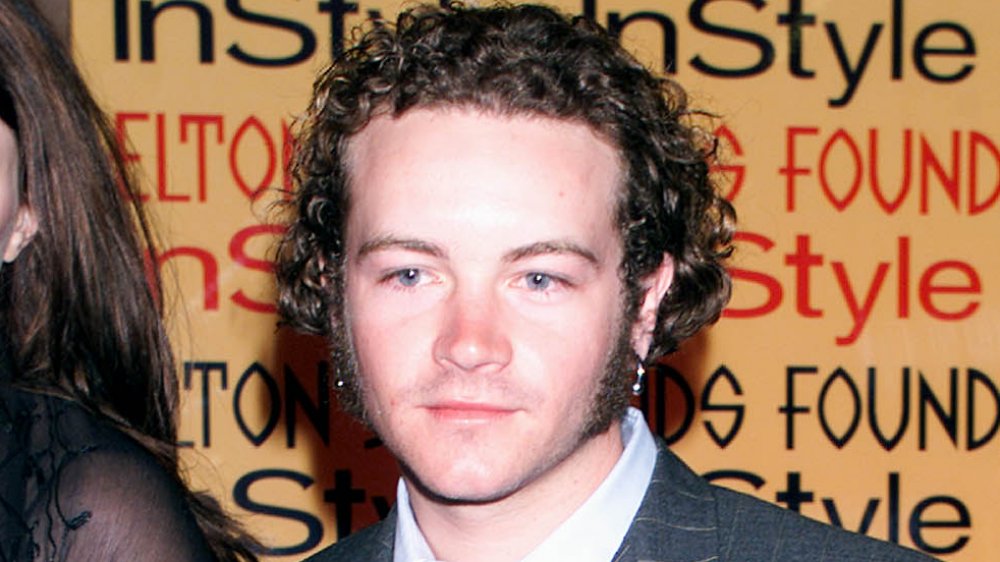 Danny Masterson — a.k.a. Steven Hyde on That '70s Show — was raised in the Church of Scientology. In a 2015 Paper interview, the actor revealed that he really connected with the religion after reading Dianetics at age 15. "It just blew my mind. I was like, 'That's the reason why I have the thoughts that I have and don't want them, or why I behave in a certain way when something happens and I don't know why,'" he said. "Dianetics literally is the answer to that."
In recent years, Masterson has caused some controversy that's partially linked to his religion. According to reports from The Hollywood Reporter and Vulture, four Scientologist women came forward — in no small part due to Leah Remini's A&E series, Leah Remini: Scientology and the Aftermath – and claimed that the actor had sexually assaulted them in the 1990s and early '00s. The LAPD launched an investigation, and the Church of Scientology was later named in a 2019 lawsuit. The lawsuit accused Masterson and Scientology leader David Miscaviage of "covering up rape and/or sexual assaults and engaging in years of abuse, human trafficking, and intimidation."
Masterson called the lawsuit "beyond ridiculous" and revealed he was planning to counter-sue. As of January 2020, the Church of Scientology was trying to take the case to religious arbitration, according to The Hollywood Reporter.
Debra Jo Rupp didn't land her breakthrough role until she was 36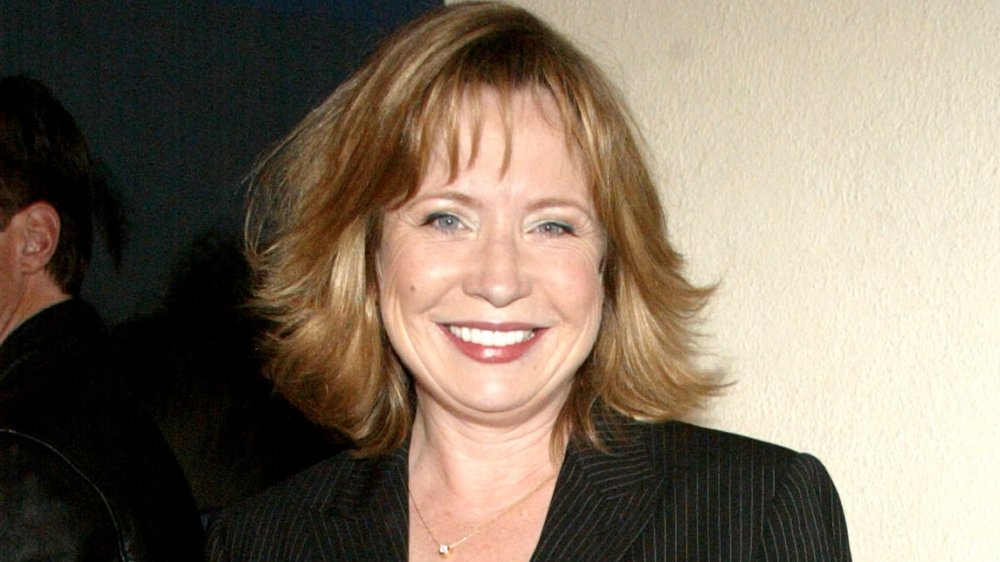 Topher Grace may have gotten his big break without even trying, but not every actor is so lucky. Debra Jo Rupp, who played That '70s Show's beloved matriarch Kitty Forman, had to hustle for years before landing her breakthrough role at the age of 36.
"I was trying to do theater, trying to do anything, and I couldn't even get arrested," Rupp told the Los Angeles Times. "I didn't know anybody, nobody cared. I took so many acting classes, I crashed every audition I could crash. It was just so hard."
The acting classes were actually her gateway. Her teacher cast her in the production A Girl's Guide to Chaos, which turned out to be a hit. After that, Rupp started getting cast in more theater productions, then eventually Broadway, and then eventually Hollywood, which was thankfully smooth-sailing. The actress started working right away and ultimately got cast in That '70s Show, which gave her enough money that she could basically do whatever she wanted. As Rupp told the publication, "I never looked back."
Kurtwood Smith modeled That '70s Show's Red Forman after his stepdad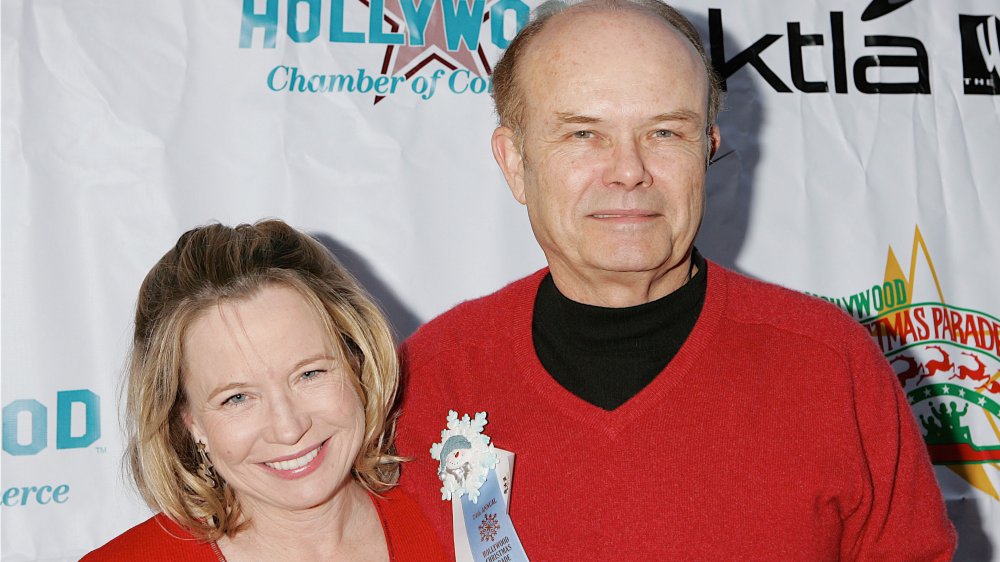 Like his on-screen spouse, Kurtwood Smith didn't have Hollywood success until later in life. According to the Los Angeles Times, he got "an MFA in acting from Stanford University in the late 1960s," and spent most of his early career working in theater. Once he moved to Los Angeles in the late '70s, the actor got some tiny parts in TV and film (think: pizza delivery guy or guy in laundromat), before landing a breakthrough role in RoboCop at the age of 44.
These days, Smith is best known for his stern, parental roles. They've become a personal brand, largely beginning with Red Forman, That '70 Show's resident patriarch with a stereotypical passion for beer drinking and power tools. Unfortunately, the man who inspired the beloved TV dad never got to see Smith's portrayal. Smith told the Los Angeles Times that Red was modeled after his stepfather "in terms of his attitude, his voice, the walk and the edge that he had." Sadly, his stepdad passed away "a matter of months" before That '70s Show premiered, but maybe some things are better off left not knowing. Smith quipped, "He would have probably said, 'What the hell? I'm not like that at all.'"